A Sunday congregation in Marunouchi, sharing Jesus and His words with people interested and their families, particularly workers from the 40 office buildings in Marunouchi.

Keyword
Jesus Christ

It is Jesus Christ himself who is the head of his church and who builds his church. As his word is taught, so his Spirit works to change people's hearts, and advance his kingdom.
Toil + struggle

The work of speaking about Jesus Christ with others is hard work, involving toil, struggle, and often opposition. Yet Jesus Christ works powerfully through this proclamation.
Wisdom

It is God in his Word, the Bible, who gives the wisdom which people in Marunouchi desperately need to hear. So we want to help people in Marunouchi become truly wise.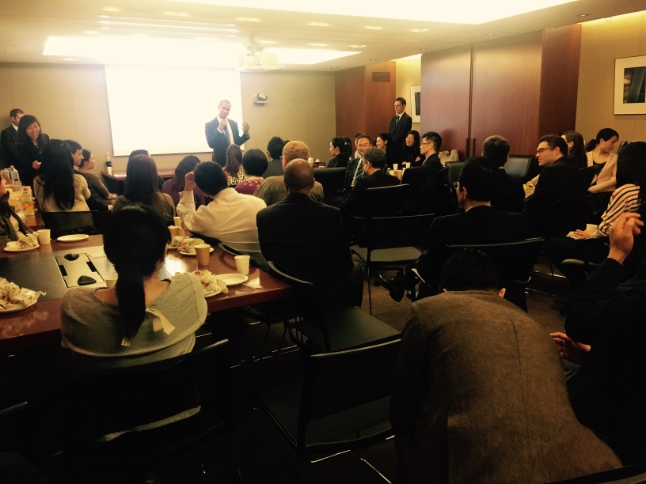 Heart interaction

The keyword of MEC which owns half of Marunouchi is "Interaction". Heart interaction is the hope, joy, truth in Christians' hearts interacting with non-Christians' hearts.
Leader training

There is a desperate need for Bible-teaching servant leaders in Japan, and so we will partner with the Samurai Projects to help train up more of these Bible-teachers.
Marunouchi

We will focus on the 43 office buildings in Marunouchi. By focusing on this influential area, we will best be able to serve the gospel throughout Japan and the world.
Partnership

Christians from many churches work in Marunouchi, and so we hope to work in partnership with these many churches to see the gospel advance in people's workplaces.
Prayer

Only God can change hearts and give understanding of the gospel and repentance leading to life. Hence, we are committed to praying for Marunouchi workers, as well as teaching the Bible to them.
Generosity

With Marunouchi being the financial centre of Japan, a large temptation is to idolize money. Yet conversely there is also great potential for generous giving to gospel work throughout Japan and the world.