RAISING UP BIBLE-TEACHING SERVANT-LEADERS
A crisis looming in ten years' time
I wonder if you have considered the looming crisis that awaits gospel work in Japan in the next 10 years? The cause is plain, and simply put: there are so few bible-teaching servant leaders being trained up in Japan.
The result is that existing churches cannot find a pastor to take over from their current retirement age pastor, and there are not the pastors and bible-teachers around to lead new church plants. The current theological colleges in Japan have tiny numbers of students enrolled, and those numbers are rapidly decreasing. There is a looming crisis, and people do not seem to be suggesting answers.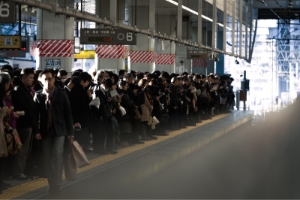 Jesus said to his disciples to pray to the Father to send out labourers into his harvest field.
If we want to see the church growing in maturity and number in Tokyo, then we need to pray for the Lord Jesus Christ to give Word ministers. In Matthew 9:35-38, Jesus asked his disciples to pray for these labourers. And concurrently, Jesus called, appointed, instructed, and gave opportunity to do this word ministry to his disciples. Thus, as well as prayer for word ministers, Jesus trained up these word ministers himself. Likewise, we are to pray for Jesus to give ministers of the word, and concurrently we are to train up word ministers.
That is what we are seeking to do in the Samurai Projects.
The vision of the Samurai Projects is to train 20-40 people each year in contemporary Tokyo.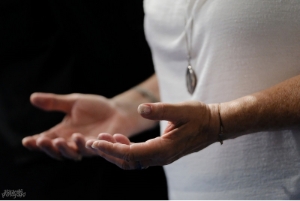 Biblical basis and Church growth
This training will involve the participants working full time in their church for 1 or 2 years. Those graduating the project will then be equipped to be Bible-teaching servant leaders, ready to proceed on a variety of paths. Some will go on to theological college (seminary), others will become church staff, or church planters. Still others will return to the workplace as businesspeople, artists or civil servants.
The Samurai (interns) will each serve in their various churches full-time, meeting up once a week in Marunouchi, to pray together, to encourage each other, and to study the Bible and receive training such that they become faithful Bible-teaching servant leaders.
As we train these Bible-teaching servant leaders, we hope to cause a chain reaction whereby these Samurai will in turn teach the Bible to other Christians in order to train them to speak the truth in love to yet others. This will lead to a mature Christian community which speaks the truth of Christ with non-Christians. The overall result of the work will be that the body of Christ is built up in Tokyo both in maturity and in numbers, or in other words, church growth.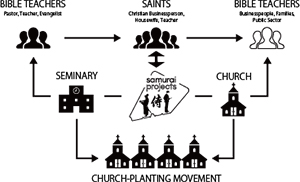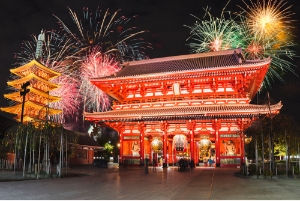 Three elements of training
Learning

Participants from many denominations are trained together in understanding the Bible, gospel-centered living, preaching and servant leadership.
Teaching

The Samurai do Bible-teaching ministry in their churches. E.g.: teaching the Bible to children, 1-to-1 mentoring, short Bible talks, small group Bible study. Then, each Samurai receives feedback and bi-weekly mentoring.
Serving

The Samurai are trained in character by doing tasks to serve people in Tokyo and others in the church.
The meaning of the name "Samurai"
The word "Samurai" in Japan has many and varied connotations. For some, particularly those up to the age of forty, it conjures up images of loyalty, discipline, and sacrificial service for one`s country. It encapsulates the best of what it is to be Japanese.
However, the word "Samurai" also has dark and violent associations. It is the theology of the mixed nature of the word "Samurai" that led us to choose the name for this project to train Japanese servant leaders. The word "Samurai" expresses the ideal of loyalty and sacrificial service for the sake of one`s lord and country.
And also, just like the world we live in, it has become corrupted by sin and decay, such that the brokenness of the drunk and violent Samurai captures the brokenness of the world in rebellion against God. However, through the death of Jesus Christ and his resurrection from the dead, there is a way back for even the most drunken, violent Samurai who lacks meaning and purpose, to be forgiven theirs sins.
And not only can they be forgiven, but they can also be transformed by the gospel, such that they become loyal servants of the true Lord Jesus Christ, faithfully serving him by teaching his words to others around them in this great and yet broken land of Japan. The Samurai Projects, raising up Samurai for Tokyo.
THE JAPANESE NATIONAL BASEBALL
TEAM IS CALLED

SAMURAI JAPAN

THE JAPANESE NATIONAL SOCCER
TEAM IS CALLED

SAMURAI BLUE

THE JAPANESE AMBASSADORS FOR SAKE
(RICE WINE) ARE CALLED

SAKE SAMURAI

THE JAPANESE IDEAL OF
SERVANTHOOD IS CALLED THE

SAMURAI CODE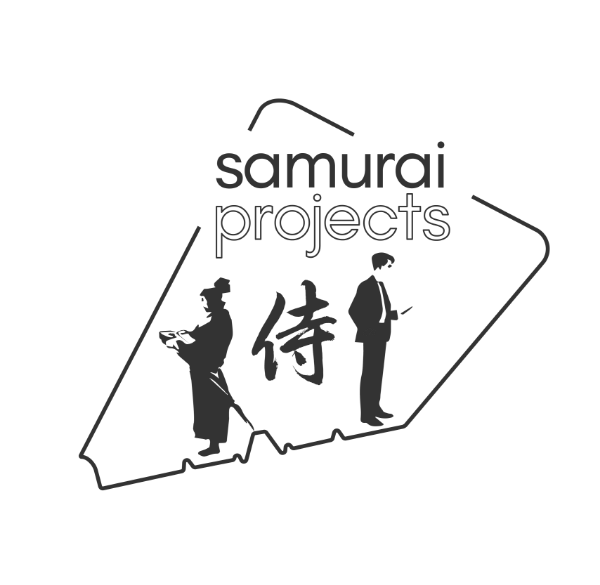 Samurai Projects: the journey so far
Over just a few years of the Samurai Projects here in Tokyo, 18 participants have gone through the Samurai Projects Internship Scheme. Of these graduates, two have planted churches; two have started new Christian ministries; three gone to theological college; five have become full time, paid Christian workers, and six have returned to the workplace to share the gospel and teach the Bible there.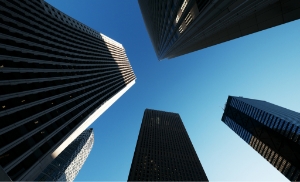 At the same time, there have been many challenges and trials for the Samurai Projects. The first major challenge came in the summer of 2015, when due to personal issues the planned leader of the project suddenly had to step down, leaving a leadership vacuum. After no other project leader could be found, the decision was taken that Thierry would lead the project part-time, alongside his work at Grace City Church. This has been a real challenge and has led to the project receiving a little less care and so being a little more "rough round the edges" than would be ideal. Yet, despite all this, the LORD provided both the necessary funds, as well as the 18 participants doing ministry at four churches. We are so thankful to Him for his kindness.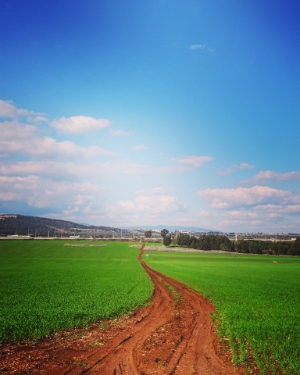 From here…
Over the first half of 2020 we interviewed the Samurai graduates so far, those who have taught on the project, as well as various pastors, teachers, seminary professors and ministry leaders, and received feedback and ideas so that we can improve this ministry. Then after discussion and consideration, the TMP Board of Directors decided to start four streams under the Samurai Projects umbrella, in order to help raise up bible-teaching servant leaders for Tokyo.
(1) Apprenticeship for prospective pastors: Similar to the program we have been running for a few years, we hope to train participants in bible-teaching ministry through seeing it, doing it and receiving feedback, as well as through studying. Furthermore, this full-time apprenticeship at a local church gives participants a chance to think, pray and test whether or not full-time Bible-teaching work might be appropriate for them.
(2) Short evening course to train business men and women in Bible teaching: Train Christian business workers to teach the Bible through seeing it, doing it, and receiving feedback, as well as through studying. This will be around six evening sessions, plus a practical assignment.
(3) Seminar for pastors about leader training: Help pastors, mission organization staff, and seminarians to learn from one another by sharing their ideas, challenges, and/or experiences about leader training, to better equip one another to train leaders.
(4) Shadowing a pastor for students and young adults: Give an opportunity to university/college students and/or Christians in their 20's or 30's to shadow and talk with a pastor for a week, as well as receiving training, in order to consider for themselves whether going in to full-time Bible-teaching work might be a realistic possibility in years to come.
We are planning to start (1) and (2) from April 2021.
Working together to help raise up servant leaders who can teach the Bible in Japan
The Samurai Projects could be instrumental in helping to overcome the critical shortage of Bible-teaching servant leaders in Japan. However, we need to work hard on all aspects of the scheme to make it more suitable for this task.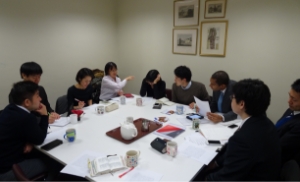 We need to speak with many pastors and churches throughout Tokyo. We need to pray for and seek a committed team of prayer and financial partners. We need to continue to work on the training, both in the training sessions and mentoring resources, so that all manner of participants can be trained up as effectively as possible. We would like to see 20-40 Samurai from 20-40 churches taking part in the Samurai Projects from April 2021.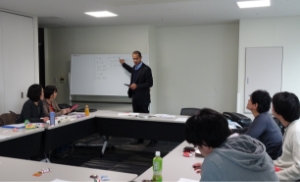 PLEASE PRAY WITH US
Then he said to his disciples,
"The harvest is plentiful, but the labourers are few; therefore pray earnestly to the Lord of the harvest to send out labourers into his harvest." Matthew 9:37-38:
We would like to see around 20 Samurai per year. We pray God would use the Samurai Projects scheme to raise up gospel workers for all of Tokyo and Japan.